At the core and heart of the Alliance's work is the creation of a complete community supported system for Southwest Baltimore that supports comprehensive athletic, sport and fitness opportunities for children, youth and adults alike. A Systems-Approach means working in dynamic and collaborative ways because:
a system creates pathways, and
complete pathways enable, inspire and lead to youth development.
Pathways to Youth Development
Many of us entered a pathway at some point early in life. We started school, graduated and perhaps went on to pursue additional education and training, found a job, then another job and perhaps at some point settled into a career. Once on that pathway, we likely met all sorts of people along the way, broadened our interests, maybe became passionate about somethings, disinterested in other things and continued to lead a relatively productive and meaningful life. We likely also found some bumps in the road along the way but had enough resources to get back on track. There is also another pathway, the "school to prison pipeline", the conveyor belt that far too many of our young people growing up in Baltimore's disadvantaged neighborhoods find themselves on. It's an outcome of the tragic urban trifecta or crime, drugs and poverty.
Developmental Assets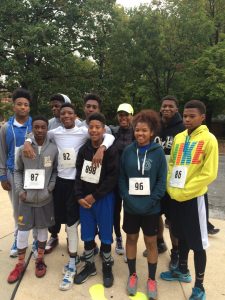 SSFA believes we can widen that pathway to productive adulthood or even create a parallel pathway by creating and supporting more sports and recreation in southwest Baltimore. Being exposed to sports early on can open youngsters to an array of opportunities and help them acquire what are known as "developmental assets". For children, these assets include the ability to make good use of free time, latching on to a positive adult role model, confidence and good self-esteem, having goals and something to look forward to, having friends and adult mentors and coaches. The more assets youngsters acquire, the greater their chances that they will do well in school and graduate, thrive in a positive peer culture, make healthy decisions and learn about and pursue careers.
Transferring Skills to the Classroom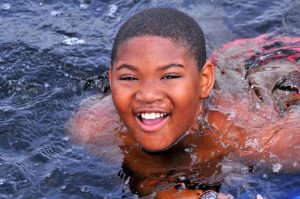 Acquiring these personal assets by participating in sports and physical activity at an early age helps young people avoid the dangers of poor decision making, dropping out of school, abusing drugs and alcohol, becoming teenage parents, and attracted to a delinquent lifestyle. Most kids who are physically capable, love to run and jump, kick, catch and throw. Encouraging children to participate in sports and physical activity in an organized way at a young age means exposing them to something new. It has got to be fun, with the emphasis on "doing" and participating, rather than "winning". Along the way they internalize the benefits of teamwork and gain confidence from learning new skills and personal achievement. We have seen how skills learned on the field or in the gym such as following directions, mindfulness and cooperation translate to improved classroom performance.
Sports and recreation are a big part of every opportunity rich environment and as a community we have got to be far more intentional and strategic about creating those pathways that lead people to a more promising future. We do this by:
Providing a safe space for youth to play
Providing accessible, affordable programs
Delivering programs through trained coaches and staff who have completed the appropriate background checks
Utilizing intentional curriculum on and off the field
Committing to a meaningful program evaluation process that occurs over time
Focusing on the development of the child, not just of the athlete
As children grow to adolescence and become older teenagers, sports become more competitive and winning is more important that just participating. They may find that what was once good enough just will not keep them in the game at a higher competitive level. Some youth may become disinterested in sports and apply the assets and confidence they have acquired somewhere else, but others may want to stay connected to sports and recreation. That pathway they first entered as a child will keep them engaged recreationally and can keep them on that pathway to staying fit for life. Furthermore, the developmental assets they acquired will keep them on the pathway to jobs or career opportunities perhaps as sportswriters, photographers, coaches, event planners, camp counselors, teachers, scorekeepers, umpires, or referees and lots of other vocations.