My name is Sham Abraham, I would like to introduce myself as the new Southwest Sports Alliance (SSFA) Up2Us Sports AmeriCorps Volunteer in Service to America (VISTA) Summer Associate 2021! I am thrilled to have the opportunity to work with SSFA this summer and hope I can aid in making a positive impact on youth in the community. As the Summer Associate I will be assisting  the Alliance  with administrative functions,  organizational development and community engagement to create an opportunity rich environment in southwest Baltimore.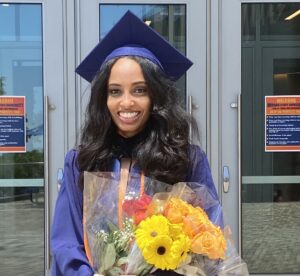 I am a recent graduate from Morgan State University with a Bachelor of Science in Psychology. I've always had a passion for working with youth through mentorship and have been mentoring high school girls for the past two years. I loved being able to be a helpful resource to young women in my community. The Alliance helps me do that as well as connect to  my family's attachment to sports. Sports have had a huge impact on my family, both my father and youngest brother are athletes who have been playing soccer for most of their lives. My brother has gained valuable friendships, learned the art of discipline and has learned the true meaning of teamwork through playing sports. I've seen these lessons manifest into his daily life therefore believe it is vital  for all kids to have opportunities to play.
I'm excited to join the team!